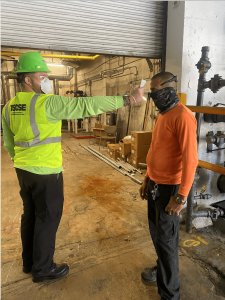 According to the ENR article published regarding COVID19 new risk controls on construction sites, "a third party with health experience, such as a nurse or emergency medical technician (EMT), should take a worker's temperature at the project gate and decide on admittance" says safety director who works on many industrial projects. Read the full ENR article.
COVID-19 Screening Requirements/Recommendations
Miami Beach is requiring all employees on a daily basis to be screened for COVID-19 symptoms before entering the construction site.
As per the Miami Dade Executive Order released on 5/15 by Governor Desantis, the "new normal rulebook" recommends temperature screening and questionnaires for employees or visitors in establishments such as:
Retail
Office Buildings
Commercial spaces such as malls
Manufacturing Facilities
3. As per the City of Tampa COVID-19 Response Construction Safety Initiative large construction sites must maintain site access controls and staff screening protocols for COVID19 symptoms.
4. Any establishment that has an on-site employee or contractor who tests positive shall close for the shorter of:
a. the time needed for all the staff to be tested and the establishment to be deep-sanitized, as specified in the Handbook; or
b. 14 days from the date such employee or contractor was last onsite at such establishment.
How can COVID-19 screening be done onsite or in your facility?
Qualified and trained EMTs or First Responders can take the employee's temperature with an infrared thermometer onsite. They will also conduct COVID questionnaires for each employee to determine early COVID symptoms. TSCSE will set up the screening station for all Clients and provide the infrared thermometer, COVID questionnaires, PPE, signage, etc.
Why choose an EMT to do the screening rather than Field Personnel?
They have experience dealing with sick patients and medical situations
They will be dedicated to this task and can provide the attention and focus needed to do the job safely and effectively
The EMT is qualified and trained on medical screenings
Having an EMT onsite can allow the Field Personnel to continue overseeing and managing the project to avoid delays or other safety accidents that can occur.
Placing an EMT onsite a few hours a day to take employee temperatures and conduct health questionnaires for all personnel onsite can have an impact on the safety on the employees and stop the spread of the virus.
With COVID-19 screening, you will get:
✅ Early detection of COVID-19 symptoms among employees
✅Reduce the COVID19 impact on your job
✅Safer job
✅Uninterrupted operations
✅Avoid overwhelming Field Staff with additional duties
✅ Peace of mind
Services TSCSE Offers:
TSCSE can provide EMTs and First Responders on jobsites, facilities, buildings, or any establishment to conduct COVID-19 risk assessment questionnaires for all personnel on the jobsite to evaluate the risk of your current job force.  With fever being a key symptom of COVID-19, our Qualified Professionals will make routine observations and take selected temperatures of all employees daily. Temperatures are taken using a "non-touch" infrared light thermometer.
Why hire TSCSE For Your COVID Screenings?
4HR and 8HR Shifts available
Competitive pricing
Quick turnaround on EMT placement and setup
Qualified and Certified Personnel available in Tampa, South Florida, and Orlando
Sales Rep dedicated to your project to ensure all needs are met
Experienced in providing COVID Screenings on multiple projects
Current Clients are extremely satisfied with our highly trained/skilled EMT's and the quality of work provided.
Learn more about the COVID-19 Safety Readiness Program TSCSE is offering all clients to assist in keeping employees safe and jobsites in compliance, click here.
To request more information or a proposal, please contact our office or email us here.