TSC Southeast specializes in fabricating, installing, and maintaining safety solutions for South Florida construction sites. It is our goal to create safer workplaces and to make the construction process run smoothly. One way we do that is through the installation of custom temporary structures to protect pools near construction projects.
Why Pool Protection?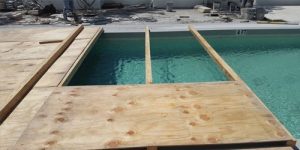 If you are performing major building renovations or constructing a building that is close to a pool, you will need to protect the pool from costly damage caused by the construction process. During construction, debris and other material could potentially fall into the pool, puncturing the lining of the pool.
At TSC Southeast, we can install temporary structures to protect your pool from damage during active construction on-site. These structures are cost-effective as they could prevent you from having to replace your entire pool if it becomes damaged during building construction.
Work with TSC Southeast for Custom Installations
In addition to pool protection structures, TSC Southeast can install custom temporary protection structures for your construction site. If you have an area that requires extra protection or need a structure designed, assembled and installed to assist the building process, our team will work to fabricate a custom structure for even the most challenging of design-builds.
Some of the safety solutions we have installed in the past include:
• Crane Protection
• Buck Hoist Platforms & Protection
• Entrance Canopies
• Sidewalk Sheds
• Hole Covers, and more!
Contact TSC Southeast for your site safety needs in South Florida!