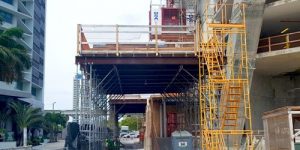 At TSC Southeast, we provide temporary structures on South Florida construction sites. Temporary structures are installed to aid in the construction of a building, on site. These structures are removed or taken down after the project is completed. One of the many temporary structures we install at TSC Southeast are laydown decks.
Laydown decks are essential to construction sites where space for materials and supplies are limited. Similar in design to a sidewalk shed, a laydown deck is built above sidewalks and parking lots. However, the utility of the laydown deck goes beyond that of a sidewalk shed. Whereas a sidewalk shed protects pedestrians and the streets below from falling debris of a construction site, laydown decks are designed with creating more surface area for work and storage.
Providing Extra Working Space
If you have an area of your jobsite that is significantly limited in space for working, you will need a laydown deck. When you work with TSC Southeast, we will fabricate and install laydown decks to significantly extend work areas on sites that have limited space.
Our laydown decks provide:
• Space for full material staging
• Surface area for additional construction work
• Storage area for formwork and rebar on the deck
• Access for trucks, storage and deliveries underneath
Above Deck
The top of a laydown deck is served mainly for more areas to perform construction work. With additional space to work, workers can be more efficient and not worry about space concerns. The top of the deck also serves as a means of storage for construction materials, as well as supplies for the worker.
Below Deck
The area beneath the laydown deck is utilized to store equipment, materials, as well as serve as a staging ground for trucks to perform deliveries or act as a storage unit.
1000 Museum Project
TSC Southeast has been involved in the building process of several notable projects in South Florida. We recently completed our scope at the 1000 Museum, one of Miami's tallest building's downtown. Creatively designed by architect Zaha Hadid, this project required us to build a 20 foot tall lay down deck that allowed trucks to pass underneath and provided an area for work to be performed on top of the deck.
Learn more about the 1000 Museum Project!
Contact TSC Southeast for Site Safety Consulting
If you need a site safety consultant for your South Florida construction project, contact TSC Southeast today! We fabricate and install fabricate, install, and maintain temporary structures to assist in the completion of your project and keep your workers safe. We are your resource for installations, laborers, safety equipment, and scope gap work!