What is a Hole?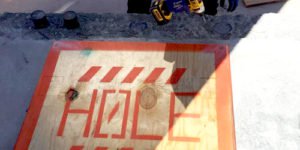 As defined by OSHA, a hole is a, "gap or void 2 or more inches in its least dimension in a floor, roof or other walking/working surface." Whenever you have a hole on your construction site it must be covered to prevent people from falling into it.
Hole Cover Installation
At TSC Southeast, we install hole covers on walking surfaces to protect workers on the jobsite from injury. Our hole covers are OSHA compliant and clearly marked with orange color to provide maximum visibility. Hole covers from TSC Southeast have bevel edges. If you are working in a wet or rainy environment, we can waterproof the covers.
Our hole covers are sturdy and durable. They are capable of holding the weight of the employees or equipment that may be imposed on the cover. Covers also protect employees under the hole from falling objects.
Site Safety Solutions
TSC Southeast is dedicated to providing safety solutions that are OSHA compliant and improve the safety of your jobsite. We can provide a variety of solutions including guardrail systems, PPE, crane protection, rebar protection and more. We work on construction projects in the South Florida area. Contact us today if you are interested in learning more about our safety consulting services.