Falls are the leading cause of injury in the construction industry. We want to help protect your workers from injuries due to falling which is why we provide fall protection to construction sites. Guardrail systems from TSC Southeast are an effective form of fall protection.
What is a Guardrail System?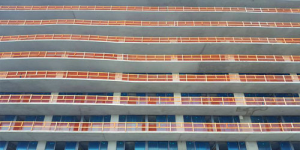 A guardrail system is a form of fall protection made up of temporary barriers that are put up around edges, large holes, or any area a person could potentially fall from. Guardrail systems can come in various forms. At TSC Southeast, we offer wood guardrails as well as wire rope systems.
Guardrail System Requirements
OSHA has certain requirements for guardrails that employers must follow. The top rails of a guard rail system must be 42 inches above the working level. If mid-rails are used, they must be installed midway between the top rail and the working level. These systems must be able to withstand a force of up to 200 pounds applied within 2 inches of the top edge. There are many requirements for guardrail systems which is why it is important that they are installed properly to avoid fines.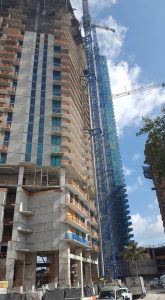 Guardrail Systems Installation
Fall protection is required on a work site when personnel will be 6 feet or higher above a lower level. It is the duty of the employer to provide proper fall protection to employees. We can help you install guardrail systems that meet OSHA fall protection requirements. Our trained personnel can install a system quickly for minimal disruption to your project.
Importance of Fall Protection
Falls have been the leading cause of fatalities within the construction industry. When constructing tall buildings, workers often must work in high places on scaffolding cranes, or near the edges of a tall structure. For this reason, there are regulations put in place by OSHA to promote the safety of workers who are at risk of falling. Having code compliant, fall protection not only promotes safety, but it prevents you from being fined or running the risk of severe, negative consequences.
TSC Southeast provides safety solutions to construction sites in Florida. We can provide fall protection as well as safety equipment and training. If you are interested in installing fall protection on your jobsite, contact us today to learn more about the safety solutions we can provide.