During the construction process, bathtubs are usually installed before drywall. This means that when the drywall is being installed, there is a chance that nails, debris, or other materials have the potential of falling into the newly installed tub and causing damage. One way to prevent this from happening is by installing protection over the top of a tub so that materials cannot ruin the tub during construction.
Plywood & Foam Protection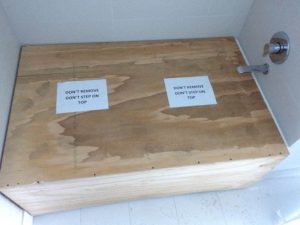 At TSC Southeast, our team will install foam and plywood structures over the top and sides of all tubs to prevent damage during construction. After the project is completed, TSC Southeast will remove these protections from all bathtubs.
TSC Southeast will be responsible for:
• Furnishing foam & plywood used for protection
• Installing the bathtub protection structures
• Maintaining the tub protection throughout the duration of the project
TSC Southeast: South Florida Site Safety
Choose TSC Southeast for your projects' site safety needs. We provide temporary structures such as protection for buck hoists, cranes and pools as well as entrance canopies, sidewalk sheds, and lay down decks. Our team provides installation and removal for all of these structures. TSC Southeast is also capable of providing safety equipment, safety training, construction signage, fire extinguishers, and skilled personnel. We are your one-stop resource for all construction safety needs in South Florida.
Contact us today!